Summary
Industry is of critical importance for the global economy.
Industrial engineering is the branch of engineering that is concerned with the efficient production of industrial goods as affected by elements such as plant and procedural design, the management of materials and energy, and the integration of workers within the overall system.
Sustainable Industrial Engineering addresses the issue of sustainability of industry in three ways: from an environmental point of view, from a social and societal point of view, from an economical point of view.
Sustainable industrial engineering has myriads of application fields since it encompasses the whole value chain and lifecycle of products: from the development of new and innovative machines, products-services to the market and recyclability.
The master SIE also welcomes second year students involved in the
SUMA European Master Programmes (SUMA: SUstainable MAterials).
For more information about the master SUMA see
http://www.master-suma.eu/
as well as
the EIT-Labelled Master Programmes brochure.

School environment
Most of the courses will be taught at Génie Industriel, the industrial Engineering school of the Grenoble INP group. The school is centrally located in downtown Grenoble.

You will have access to a high technology platform.

Student life in Grenoble is very rich and active (Grenoble is classified N°1 for studies in France – Palmarès des villes étudiantes 2013-2014). Students have the opportunity to follow their interest whether it be in sports (leading center for mountain sports), the arts, non-profit organizations, international relations, or yet other options.
Objectives

Become a :
Project engineer
Development or research engineer
Business or consultant engineer
Production and supply chain engineer
Product architect
Consultant in Sustainable industrial engineering
Training partners

Each student will be required to complete an internship either at an industrial firm or in a research laboratory. This may be undertaken in France or abroad. This is an opportunity to consolidate and discover working methods and to learn how to manage real projects. A written dissertation will be required at the end of the training period to be defended in front of a jury.


Possible research laboratories :

G-SCOP, GAEL, PACTE …



Companies
A+

Augmenter la taille du texte
A-

Réduire la taille du texte
Imprimer le document
Télécharger au format PDF
Envoyer cette page par mail
Entry requirements

The SIE Master addresses students owning a Bachelor of Science or a Bachelor of Engineering or equivalent in:
Industrial Engineering
Supply Chain, Operations Management, Logistics and Transportation, Operational Research
Manufacturing Science, Product Design, Product Development, Mechanical Engineering, Materials Science, Electrical Engineering
Computer Science, Information Systems
Entry level 1st year if BSc.
Entry level 2nd year if MSc
. (
admission only in first year for 2019-2020
)
English proficiency
Excellent academic results
Apply now

Online application by FSA (from December 1st, 2018 to May 27th, 2019) - Admission only in first year for 2019-2020:


If you are a foreign student from one of these countries:
ALGERIA , ARGENTINA, BENIN, BRAZIL, BURKINA FASO, CAMEROON, CHILE, CHINA, COLOMBIA, COMORES, CONGO, SOUTH KOREA, IVORY COAST, EGYPT, USA, GABON, GUINEA, INDIA, INDONESIA, IRAN, JAPAN, LEBANON, MADAGASCAR, MAURITANIA, MALI, MOROCCO, MAURICE, MEXICO, PERU, RUSSIA, SENEGAL, SYRIA, TAIWAN, TUNISIA, TURKEY, VIETNAM.

All the applications will be studied in our Commission of Accreditation of Academic Acquisitions (CVAA).

If you are eligible, you will be called for an eligibility interview by videoconference.

Dates of commissions for the year 2019 (the files will have to be deposited one week before each commission to be studied):
February 12th
March 19th
May 3rd
June 4th.
If you apply for the Sustainable Industrial Engineering Master's Degree, you can also apply
for a scolarship
(Available for an application in Master's Degree 1st or 2nd year).


COMPULSORY REGISTRATION FEES:

Master Sustainable Industrial Engineering fees : 4243 €
TOTAL COMPULSORY REGISTRATION FEES
:
4243. € for one year
(8486.00 € for 2 years)
+ CVEC: 90 €.
Contacts
Education contact
A+

Augmenter la taille du texte
A-

Réduire la taille du texte
Imprimer le document
Télécharger au format PDF
Envoyer cette page par mail
Expected learning outcomes
MSc SIE helps tomorrow's industrial engineers to work collaboratively in a globalized international context, with societal constraints as well as environmental and economical impacts.

The SIE Master programme leans on the knowledge triangle Education-Research-Innovation.

It is designed to cover the whole value chain and lifecycle of product and service, from Innovation draft, through to Distribution, in an international context. (See figure 1)It aims at tackling the key issues that are sustainable manufacturing industry, innovation, and sustainability.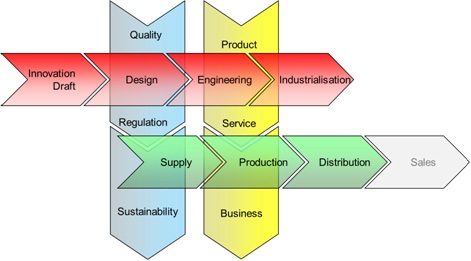 Figure 1. SIE Master overall scope


Additional skills and competences are also addressed e.g. in marketing and management as it is key knowledge for the today and tomorrow industrial engineers.
Careers
SIE targets 2 main profiles :

- Industrial engineers with sustainable impact : the students will be able to find jobs in Industrial/ Mechanical/ Production/ Automation/ Aerospace/ Energy/ or Management Engineering

- Researchers in industry : the students will have plenty of opportunities to carry on their studies as PhD among one of the numerous international laboratories of the SIE partners (full members or associates) and the research community in the sustainable manufacturing domain.

A+

Augmenter la taille du texte
A-

Réduire la taille du texte
Imprimer le document
Télécharger au format PDF
Envoyer cette page par mail