Whatever the destination an international Erasmus exchange is a unique experience.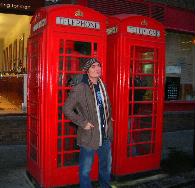 The cosmopolitan character of life with a bunch of students from all over the world allows you to bathe in new cultures and is a cliché-fighting remedy. You must also learn to cope in a country where everything is different: the language, the "savoir vivre", the administration, the law, the size of cabin luggage... It is a really enriching experience.

The Nottingham campus with its 30 000 students is really peerless. The Industrial Engineering students study at the business school, one of the most renowned in the country. In addition to the classes, you will work "British style" i.e. do a lot of self-study at the 24/24 library. Courses appear less "scientific" but require a lot of personal thinking.

The university also offers quite extraordinary computer and sport equipment. Practicing concrete hockey, fitness or swimming 400 metres is nothing outlandish at Nottingham U. Neither are Salsa or Scottish dance classes and you can also train your vocal chords with the Gospel choir.
Rest assured that despite the seemingly minimal 10 hours of classes, your agenda will be overbooked! If you have some energy left you can even take advantage of the well-developed coach network and enjoy the company of other British or foreign students in London, Edinburgh, Manchester or Oxford....

The only snag with these exchanges is that they are all over much too fast!
Mael LEON
« Broaden your mind »
Cellule Relations internationales