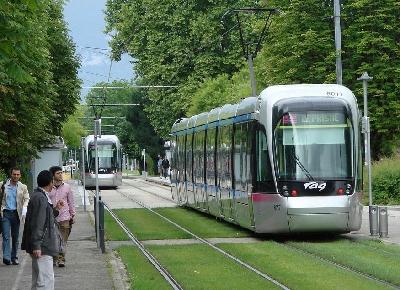 Grenoble is a city in southeastern France, situated at the foot of the French Alps located in the Rhône Alpes region and is the capital of the department 'Isère'. The city is surrounded by mountains and has become known as the 'Capital of the Alps'.
Population of the city: about 157,000. Population of the Grenoble metropolitan area: about 530,000 inhabitants. The citizens of Grenoble are called 'Grenoblois'.
The city is a major scientific centre, especially in the fields of Physics, Computer Science and Applied Mathematics.
The Grenoble Institute of Technology trains more than 5000 engineers every year in key technology disciplines.
Joseph Fourier University (one of France's leading scientific universities) and the French National Centre for Scientific Research (CNRS) conjointly manage many fundamental and applied scientific research laboratories.
Grenoble is one of the leading European cities in term of high-tech industries, especially bio- and nano-technologies.
The city benefits from the highest concentration of strategic jobs in France after Paris.
World-renowned companies have settled in Grenoble and in the surrounding area for example: STMicroelectronics, Schneider Electric, Caterpillar, Hewlett Packard and Siemens.
The presence of businesses such as Hewlett Packard or Caterpillar in the city results in the settlement of many American and British workers in the area. The region has the second largest English-speaking community in France after Paris.
Grenoble has many links with foreign cities and is notably twinned with Oxford in the United Kingdom, Phoenix in the United States of America, Catania and Corato in Italy, Essen and Halle in Germany, Innsbruck in Austria, Constantine in Algeria and Sfax in Tunisia.

Grenoble is host to many cultural events and is equally well known for its sport events. The 1968 Winter Olympics took place in the city and it is famous for its many nearby ski resorts and numerous natural sites. Grenoble inhabitants are often very keen on sports and outdoor activities.